Dear Friends of Kasisi.

Another Year is coming to an end. This is the time we remember all the people who helped us through the year and made the life of our children easier, healthier and happier.
We would like to thank you very much for your help, love and prayers.
During this 2019, about 40 new children joined our Kasisi family. Many of the were just newborn babies whose relatives abandoned them in various places. Several of them have been adopted and we hope and pray that they will have a safe and happy life.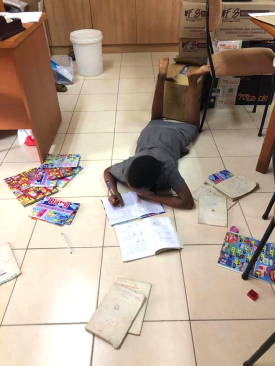 Study time at Kasisi
In the beginning of the year, 23 of our children started Grade 1 in local primary school. All together we have 120 children in primary school, 19 in secondary schools, 2 in the college and 6 at the university. The remaining children are enjoying preschool and nursery at home.
The babies are happy playing outside in the specially built for them garden play area.
In the last months we have managed to renovate our newly registered medical wing which provides medical care for our children and for some needy people from the local community.
With help from many Friends of Kasisi we have received an ultrasound machine, blood analyze, ECG machine, microscope and just two weeks ago, chemistry machine.
Many of our children have health problems and their constantly need a lot of medical attention. Thankfully with the help of several volunteers doctors and our own nurse we have managed to save and restore many lives.
Once again I thank you all for your help and support. We wish you a very Blessed Christmas and a peaceful and happy New Year.
We assure you of our prayers and deep gratitude.
Sr. Mariola